Convert Images to JPG in Batch Mode
2JPEG is command line image converter software. It can resize images in batch mode and convert PDF and XPS files to JPG. 2JPEG provides full control over the output JPG images size, compression ratio and destination folder path from the command line interface.
Download now!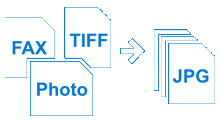 2JPEG can convert to JPG almost any image files like TIFF, PNG, Bitmap, GIF, Camera Photo Raw and 275 more input formats.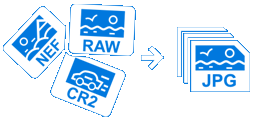 Professional photographers take pictures in the camera raw format. 2JPEG is able to downscale raw files and convert them to JPG in batch mode.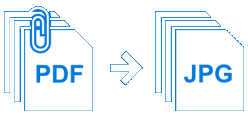 Converting tons of Adobe PDF files to the JPG format in batch mode is easy with 2JPEG software!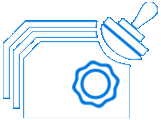 To protect photos from unauthorized use, add a text watermark to your pictures before sharing them in the Internet.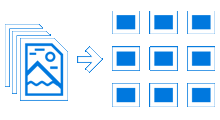 Only one command, and 2JPEG will create thumbnails for your whole photo archive.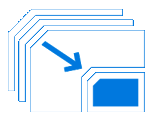 With 2JPEG software users can resize image files before the web publishing.
Batch Mode Image Processing
2JPEG can convert PDF's and almost all image file formats to JPEG in batch mode. Besides, it can scale each converted image, place a text or an image watermark, pasteurize an image, sharpen it, blur it, rotate it or flip it. Besides, it's possible to change the range of pages of multipage files like PDF, TIFF or DCX and process only specific parts of documents. Thus, 2JPEG is the advanced image converter that can optimize your everyday tasks. You are welcome to try it now!
Wide List of Supported File Formats
Full list of input image formats contains more than 275 positions and includes the following file types: ico, cur, ani, bmp, dib, rle, gif, jpeg, jpg, jpe, pcd, pcx, dcx, png, ppm, pbm, pgm, tga, tif, tiff, wbmp, wbm, wmf, apm, emf, wpg, psd, img, gem, iff, ras, sgi, xbm, xpm, dxf, rle, pict, pic, pct, psp, jng, mng, clp, cut, fpx, jp2, jpc, j2k, jpx, j2c and many more. Complete table of supported formats is here.
Integration in Systems Requiring High Performance and Reliability
2JPEG software is based on the graphics engine developed by fCoder Group, Inc. The development of the graphics engine started in 1998, and since then it has been optimized, enhanced and modernized thanks to clients' requests and reports. As a result, right now 2JPEG is based on reliable, highly professional and high-performance image processing core, which is able to work 24 hours a day 7 days a week.
Customer Testimonials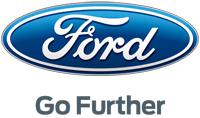 I have been using 2JPEG for over a year now. It has worked flawlessly. We were previously contracting graphics suppliers to convert CAD images to formats compatible with our publications system. This is now a simple batch process made possible by 2JPEG's command line interface. I would highly recommend this solid program as it has more than paid for itself in my application.
David VanAsselt from Ford Motor Co.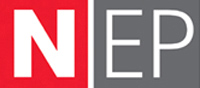 I have been a user of 2JPEG for several years now and cannot imagine developing an application that involves images without it. Completely separate applications developed in both Microsoft.NET and Java use 2JPEG to convert and standardize approximately 28,000 images in total. So speed, quality and reliability are of the utmost importance as the picture of a vehicle often helps secure a sale, and 2JPEG provides these with ease.
Lee Scott, Web Developer from Northcliffe Electronic Publishing Ltd.
Availability and Licensing
Download free version of 2JPEG to evaluate the software and use it for non-commercial needs. Free version allows you to try all the available features of the program. The only thing that makes it different from the commercial version is a text "Created by..." attached to every output file.
There are three more licensing options available for your specific business needs and requirements:

Lets the user install, activate and run 2JPEG under one Windows user account. The price starts from $149.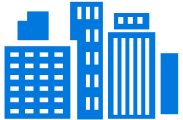 Lets corporate users install and run 2JPEG in all the company offices.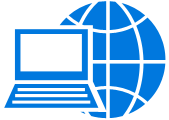 Software developers can include 2JPEG to their own software installation kit and distribute it without any limitations.
Volume discounts are available starting from 5-user licenses. Special price is available for governmental and nonprofit organizations. Resellers and partners are welcome to our worldwide distribution network! Please contact us to get more information.
2Jpeg News and Events
2JPEG 8.4: Batch Convert to JPEG – Now in Service Mode
-
Convert images, PDF files and other documents in batch mode with new 2JPEG! We added ability to run 2JPEG in service mode, processing password-protected Word and PDF files, option to ignore alpha channel transparency plus some other improvements & fixes
IT with a Human Face: History of Photography Development
-
It's not fair that we know nothing about the first photographers and how photography developed. We just take it for granted that SLR cameras and smart phones help us take great pictures which then go directly to Facebook. Meanwhile, it took centuries for our predecessors to take the very first shot. Learn why the process was so complicated and don't take your photos for granted – there is a long history behind photography.
About Company

fCoder provides robust digital document and image processing applications to corporations, educational institutions, government agencies and individual consumers worldwide. The company, which was founded in 1998, designs and develops its software solutions within its three divisions – document imaging, image processing, and digital photo editing.
Customer Support Service
Please contact the customer support service for any reason. We are always ready to tell you how to use 2JPEG to solve your tasks most effectively, how to deploy 2JPEG in your company environment, how to integrate 2JPEG to your software product, how to get volume, nonprofit or distributor's discount. Answers to the most common questions are published on the Examples page.